Hello

Just a few important reminders before you get started....
- Your Farm Town album in Facebook needs to be set to EVERYONE in your privacy settings. Otherwise your picture will only be visible to you. Go to your Facebook profile > Photos > Farm Town Photos > Edit Album > Beside 'Privacy:' select 'Everyone' from the drop down menu > Save.
- Every browser and system is different and it would be impossible to include directions to each and every one. If at any point, any of these instructions do not apply to you, you will need to go to your browser's 'Help' or your manual.
- EVERY step needs to be followed very carefully. If you miss a step your picture will not show.
Directions for posting a picture:
1.
Go to your farm, hover your cursor over the yellow toolbox and click on the camera icon.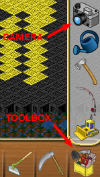 2.
Select 'Farm' rather than 'Window' and then click 'Next'. The picture is automatically sent to your Facebook photo album titled 'Farm Town Photos'.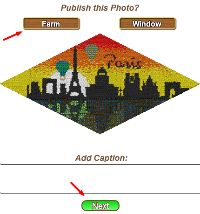 3.
Go to your Facebook profile and click on 'Photos', located on the left. Then click on your Farm Town album to open it.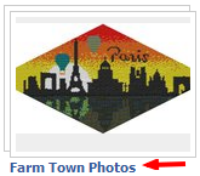 4.
Once your album is opened click on the photo you would like to submit into the contest. You will be redirected to your photo which will have a white border around it. Click 'F5' on your keyboard to remove the white border. MAC USERS: Click 'Command R' rather than 'F5'.
PLEASE NOTE: Facebook has made a few changes so the black box is now a white box but the steps are still the same to copy the image.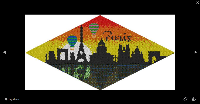 5.
Right-click on the photo and choose 'Copy Image Location'. NOTE: The screenshot below was taken with Firefox. Different browsers say different things. For example, Google Chrome says 'Copy Image URL', Safari says 'Copy Image Address' and Internet Explorer 9 says 'Copy'.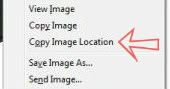 6.
Come back to the contest thread, select 'Post Reply' and select the 'Insert Image' icon at the top of your post. Right click on the box with the 'http' in it and select 'paste'. Click OK. Click 'Submit Reply'.

NOTE:
The link you copy will look like this:
http://a5.sphotos.ak.fbcdn.net/hphot..._XXXXXXX_n.jpg
If it looks like this:
http://www.facebook.com/photo.php?fb...XXXXXXX&type=1
You have missed a step. Refer back to step 4. You have copied the wrong link. The picture you copy the link from will be rather large and will be the only picture visible on the page, not the small image that you see when viewing all the pictures in an album.
INTERNET EXPLORER 9 USERS:
Step 6 will be a little different for you. Once you have clicked 'Post Reply' in this thread, click 'Switch Editor Mode', right-click in the reply box and select 'Paste' from the menu. If the link shows as a link rather than the picture itself, click 'Switch Editor Mode' again. Click 'Submit Reply'.

If after following all these steps you are still unable to post a picture of your farm you may need to post a Screenshot instead. Click HERE for instructions. Good luck!