Those of you with stuck requests in My Requests that are not clearing, unable to see friends profile pictures and first names in various areas:
UPDATE SEPT 3rd 2021:
If you had this
RECENT
issue, example shown further down this post, please check if you can now see the names and profile pictures in the yellow activity panel beneath the game screen. If you can please check your My Requests and see if the pictures are also showing up there now, if you did not clear the stuck requests out via Facebooks games activity area, you may need to refresh My Requests a few times to clear those out. Any train boosts that did not clear form My Requests will have to be cleared form My Requests and you will see the expired, already ahead a day or returned home messages for those as they have already been done.
The issue was caused by Facebook changes so we are hoping this fix has resolved all of those now.
ISSUE 2:
A side effect of this is that it is possible the those of you that were unable to send gifts and trains due to the friends lists not loading at all might have helped, but we are not sure yet if it did at all, so if you had that issue please check and see if you can now send gifts and boosts your trains.
ISSUE 3:
Another issue that it might have fixed is where people have access to more than one account and use the same browser for all of them and may be using Facebooks switch user to switch between them without logging out of the accounts. This one was causing facility work to be posted as someone else and if you were not friends with the account that posted you were seeing those work request in your own facility work requests as a friends posts but when you tried to work them you could not as you were not friends with the account that had actually posted them.
If you would like to report your issue(s) is either fixed or ongoing please do NOT try to post on this thread, it is for your information only so is closed for posting.

The thread to post your information about this recent issue and the other issue where the friends list would not load is in the Help and Support area of the forum.

To be taken to that thread please click on this link and please remember to list which issue you had/have (RECENT/ISSUE2/ISSUE3) and whether or not that issue is fixed for you.
http://r1.slashkey.com/forum/showthread.php?t=242882
RECENT ISSUE - AUGUST 2021:
Please check underneath your game screen in the yellow activity panel and see if it's showing you
someone
instead of your friends names and profile pictures.
If it does you should see that is also happening in wall requests and in my request the picture are also missing but the names are showing.
When you have this issue, it is causing a problem with the requests clearing from my requests after accepting gifts and boosting trains. We have let the developers know about this and it does seem to be another issue with getting the relevant data from Facebook which they may have to fix.
If you have this issue this is an example of what you will see in those areas: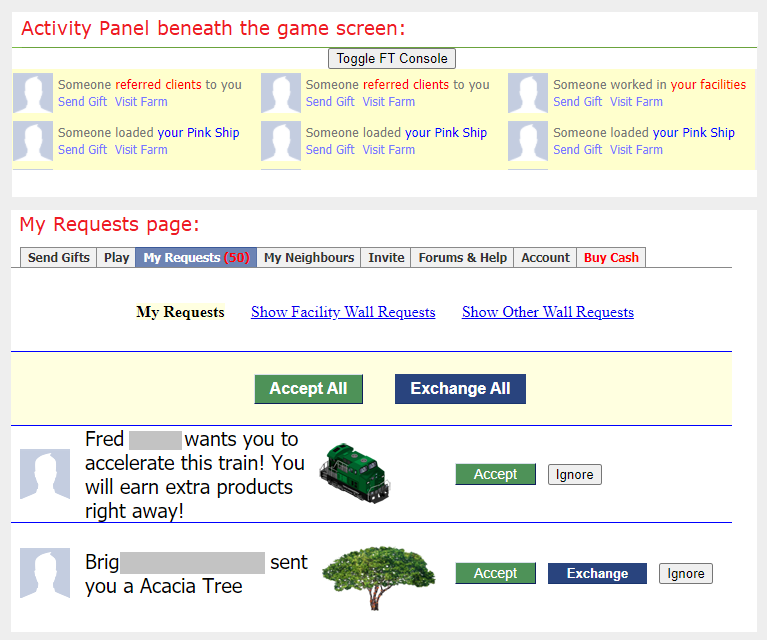 If you don't have the someone issue please check if you have already done the following
:
Check your browser is still showing up to date
that cookies and popups are still allowed in your browser.
Try another browser to make sure the issue is not browser related.
Try clearing your FT memcache. To run memcache Click Here. A window will open with a list of "unsetting", which is the memcache being cleared. Close that window and FT if you have it open in another browser window.

If you have made any changes to your browser and the browser prompts you to relaunch it, please do so, if it does not please close the browser, then reopen it. THEN reload My Requests and see if you can now clear those stuck requests.
If you do have the someone issue and have already done the above list, to clear the stuck requests please try these:
First load your game and boost any friends trains showing in your train manager
Then click on this link https://www.facebook.com/games/activity which will take you to Facebooks games activity area.
Look for your Farm Town Requests, ignore all the gifts and train requests that you know have not cleared from My Requests. If you have tried to accept quite a few there is an Ignore All top right of the box that will clear the 1st 100 requests out for you, but if that doesn't work or you will have to click the x on each request to clear them out one by one.
DO NOT boost your friends trains from that area if those are also stuck you still need to click the X to clear them out or this will not work for you.
If you have more than 100 requests to clear from that area, you will have to return to that area to see more of them to clear out.
After clearing the requests from that area, THEN reload your My Requests tab and you should see the stuck gifts/train requests have gone.
Until this issue is resolved you will have to repeat steps 1 to 6 every time you accept gifts/boost your friends trains if the requests don't clear from My Requests.
This thread is closed for posting.