someone - no names - no profile pictures issue
UPDATE 16TH SEPT, 2021
. We are currently testing a fix, however there may still be problems if you like to use Facebooks Switch user to switch between accounts.
ISSUE:
We are aware that the fix for
this issue
that was causing stuck requests is playing up at at times but not sure when the devs will have time to work on it again.
These are what you can try in the various areas if it plays up if you really need those see those names and pictures. Friends facilities can still be worked without those showing up, the pink background will still show when go back to or refresh the facility wall requests when need to know which ones have already been worked.
To the left of your browser address bar you should be able to see an icon shaped like a bent arrow in the shape of a circle. When you mouse over it it may say reload. If you are not familiar with it, in the example below I have indicated it with a red arrow to show you what it looks like when using Chrome browser. In other browsers it may be further to the left or even on the right of the browser address bar:

You can click on that reload icon if the the names and pictures don't show up in the yellow activity panel beneath the game screen when you first load the game, go to My requests, Facility Wall Requests, Other Wall Requests and the My Neighbours section if it plays up there as well.
When working friends facilities, the names and pictures will disappear again from the yellow activity panel beneath the game screen and may remain that way if you use the home icon to return home after working facilities. If you need to see them again you can just click on the Play tab instead of the home icon and they should show up again.
The issue where you see a friends facility work request in wall requests, but when you try to work them it tells you that it's reserved for friends is an ongoing issue which this fix may not have helped with. What has usually happened is that someone has access to more than one account and is logged into both of them. They may be using different devices or the same browser for both and using Facebooks switch user to change between them without having to log out. When one of them posts their facilities and you are not friends with them it can show up as your friends post in wall requests. You will have to let your friend know what has happened so they are aware and can then decide to change the methods used to avoid it happening again.
This is an example of the someone, no name, no profile picture issue: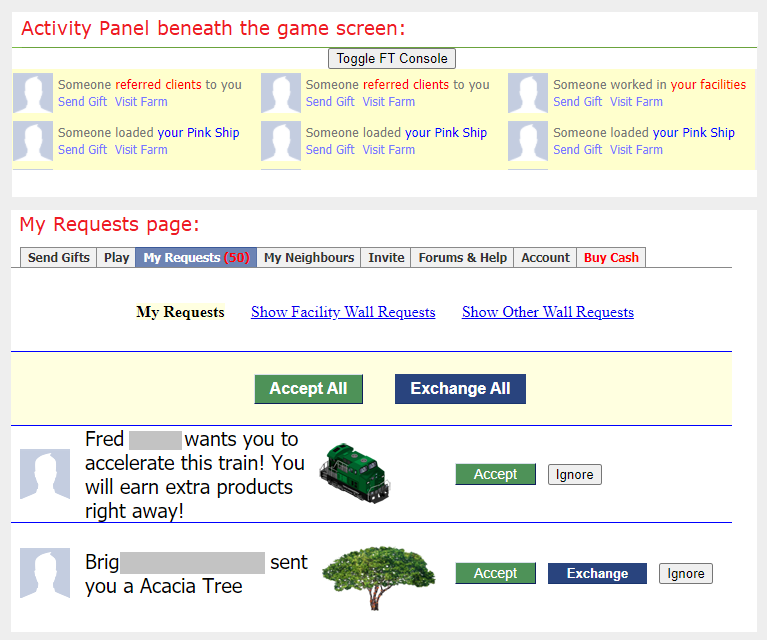 If the above methods stop working for you and for any other display issues please click on this link to be taken to help and support for display issues where you will able to post for help:
http://r1.slashkey.com/forum/showthread.php?t=648642