HOW TO CLEAR YOUR CACHE / BROWSER
Many issues in FarmTown are resolved by clearing your computer's internet cache. The following are instructions for clearing your cache for the most popular browsers. However, it is now recommended by the developers that clearing the browser cache often is not a good idea as this will cause slow loading the first time after clearing as the game must reload all the graphics for your farms.
Internet Explorer – Windows
1. Click the Tools button
2. Scroll down to "Safety"
3. Then click "Delete browsing history".
4. Make sure the following are checked
temporary internet files
cookies and website data
history
Then click on "Delete".
Internet Explorer - Mac
1. Start Internet Explorer
2. Select Explorer->Preferences from the toolbar.
3. Select the Web Browser menu.
4. Select the Advanced menu.
5. Then on the right-side of the "Preferences" window in the Cache section, click on Empty Now.
FireFox - Windows
(Cache)
1. At the top of the Firefox window, click the 3 bars, then select History… Then select Clear Recent History window will open.
2. Click the button next to Details to expand the window.
3. In the Details list, select Cache and make sure the other items are not selected.
Firefox - Mac
1. Click on Firefox | Preferences.
2. Click on the Privacy icon.
3. Click on Clear Now under the Private Data section.
4. Ensure that Cache is checked, then click Clear Private Data Now
5. Click on the red close window button to return to browsing.
Safari - Mac
1. Click on Safari | Empty Cache.
2. A window will appear asking if you want to clear cache. Click on Empty.
Opera 9.x for Mac OS X
(Cache)
1. In Opera, click the Opera menu.
2. Click Preferences.
3. Click the Advanced tab.
4. In the left-hand column, click History.
5. In the Disk cache section, click Empty Now.
6. Click OK to close Preferences.
Opera 9.x for Mac OS X
(Cookies)
1. In Opera, click the Opera menu.
2. Click Delete Private Data.
3. Click Detailed Options.
4. Select Delete all Cookies.
5. Deselect the checkbox for any of the other Private Data options that you don't want to delete.
6. Click Delete.
Google Chrome
(Cache)
1. Top right of your browser at the end of the address bar is 3 dots. Hover your mouse over it and it will say "Customise and control Google Chrome"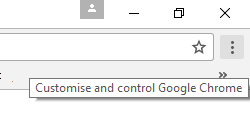 2. Scroll down to "History" a window will open to the left. Click on "History"
3. Select Clear browsing data on the left
4. A "Clear browser data" window will open
Click on or make sure "Basic" is underlined in blue
For "Time Range" select "All Time"
Make sure you have check marks for
Browsing history
Cookies and other site data
Cached images and files
5. Click Clear Data.
Microsoft Edge - Windows10
1. Click on the 3 lines top right of the browser window
2. Click on "Settings"
3. Scroll down to "Clear browsing data" and click on "choose what to clear"
4. Make your selections
browsing history
cookies and saved website data
cached data and files

and then click on "Clear".